CaseWare Cloud
Improve the quality and efficiency of your engagements with tools that simplify collaboration between staff and clients. Our centralized file management system provides a single location to host all of your engagements while providing security in compliance with ISO 27001 and SOC 2® Type 2 so your clients can trust that their data is safe with you.
Key Benefits

Simplified Client Portal
Facilitate collaboration with clients through easy file sharing,
communication and status reporting.

Intuitive Collaboration
Enable staff collaboration on the same client file, and facilitate review
and sign-offs from anywhere.

Complete File Management
Obtain a full document management system with centralized data storage, and built-in retention and backup capabilities.

Transparent Engagement Management
PMonitor all of your engagements in one central location - with easy access from anywhere so you can make course corrections quickly.

Integrated Time and Billing
Cloud automatically generates draft timesheets based on your calendar and time spent in
client engagement files.

Strong Permission Protocols
Leverage built-in roles for easy rights and access management or create permissions based on specific engagement needs with security on par with large banks.
CaseWare Cloud
With CaseWare Cloud, you'll gain unprecedented visibility into your engagements. With innovative web-based tools, you can easily monitor your engagement quality, centralize all working files in one location, and work in real-time with your colleagues and clients.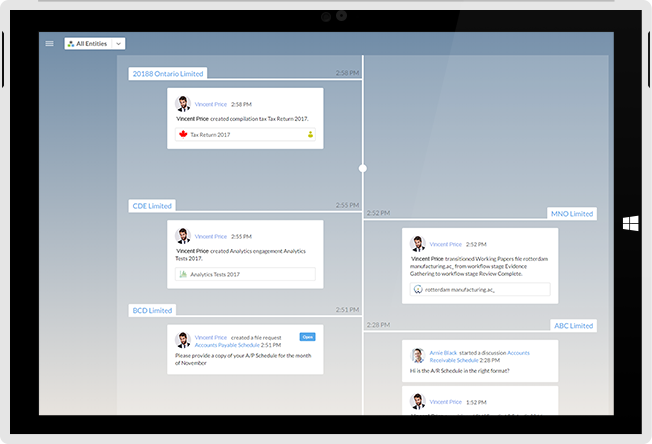 Frequently Asked Questions
If you can't find an answer contact us with your question.
CaseView is a part of the CaseWare® Working Papers suite of products. CaseView is a revolutionary tool that takes any type of document or working paper, including client ready financial statements, to top-notch publishing quality.
What is CaseWare Audit International Template?
What is CaseWare Financials?
What is CaseWare Connector?